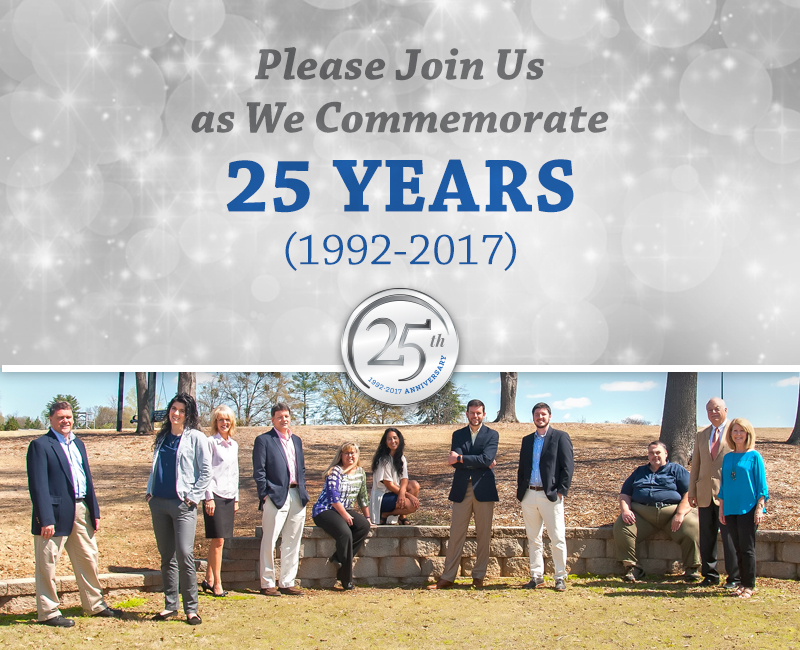 Thankful for the Past – Anticipating the Future.
We at Burdette Engineering, Inc. have been blessed with the honor of serving our Clients for 25 years. We thought this occasion would be a great time to reflect back and remember those that have contributed to the ability to perform our craft and the wonderful relationships we have developed as a result.  These relationships are the reason that we are so certain that our next 25 years will be full of more exciting opportunities to serve our community and promote the growth of the Upstate region.
Many Thanks to Our Clients and Friends.
ADC Engineering • Adeptus Architecture • Allees Landscape Architecture • Alliance Consulting Engineers, Inc. • Alta Planning & Design • Arbor Engineering, Inc. • Architectural Design Center • Ard, Wood, Holcombe & Slate Accounts • Arrowood & Arrowood Engineers • AVX Corporation • Bandit Lites, Inc. • Bluewater Civil Design, LLC • Bob Jones University • Bon Secours St. Francis Hospital • Britt, Peters & Associates • Buncombe County Schools • Bynum Architecture • Caliber Engineering Consultants • Carolina Architectural Lighting & Design • Childs Architecture • City of Anderson Public Works • City of Greenville Engineering Department • Claro Company, Inc. • Clemson University • Craig, Gaulden & Davis, Inc. • Crow & Bulman Engineering, Inc. • Curt Davis & Associates • Darrohn Engineering, Inc. • Davis & Floyd, Inc. • Delta Engineering, Inc. • Design South Professionals, Inc. • DesignStrategies, LLC • Diversified Resources, Inc • Greenville County Parks and Recreation • DP3 Architects • Emory Electric • Fant, Reichert & Fogleman, Inc. • Florence & Hutcheson, Inc. • Freeman & Major Architects, LLC • Fuller Consulting Engineers, Inc. • Furman University • Glick/Boehm & Associates, Inc. • Good City Architects, LLC • Goodwyn Mills Cawood • Governor's School for Arts & Humanities • Green Arch Design Group • Greene & Associates Architects • Greenville County School District • Greenville Hospital System • Greenville Technical College • Harper Corporation •     Hartness Development, Inc. • Hayes and Lunsford Electrical Contractors • HBRA Architects • Henderson County • Hogan Construction Group, LLC. • HR Allen, Inc. • Byington Landscape Architects • JMD Architects • Johnston Design Group • Land Planning Associates, Inc. • LandArt Design Group, Inc. • Lander University • Langley & Associates • LeBlancWelch • Linda Wood Berri, AIA • LS3P Associates, Ltd. • Maddox Engineering, Inc. • City of Mauldin • Mavin Construction • MCA Architecture • McAbee Architects, LLC • McCrory Construction Co. • McLeod Landscape Architects • McMillan Pazdan Smith • Michael Baker International • Michael M. Simpson & Associates, Inc. • Milone & McBroom, Inc. • Mitchell Contract Interiors • Moseley Architects • AnMed Medical Center • Caldwell Constructors, Inc. • Carolina Architectural Lighting & Design • Comporium • Mussman Architects • NC& E, LLC • Network Controls & Electric, Inc. • North Greenville University • Nutra Manufacturing • Palmetto Health Toumey • Peritus Engineers & Associates, Inc. • Piedmont Technical College • Pond and Associates • Priority One Security • Productions Unlimited, Inc. • Professional Engineering Associates, Inc. • Pro-Lectric Ind. Contractors • Pruett, Ford & Associates, Inc. • Radium Architecture • Red Iron Architects • Reynolds Engineering, Inc. • RMR Development, LLC • SCI Electronics Inc. • Seamon, Whiteside & Associates, Inc. • SGA Architecture • Sherman Construction Co. • SHLTR Architects, LLC • Sinclair & Associates, Inc. • Site Design, Inc. • Smith Companies of Greenville, Inc. • 6 Stanley Drake Construction • Stephens Engineering & Consulting • TFS Engineers, Inc. • The Boudreaux Group • The Lighting Company • The Peace Center • Tipton Associates • Traditional Concepts, Inc. • Trane U.S., Inc. • Triangle Construction Co., Inc. • Tri-County Technical College •  University of South Carolina • Urbs, LLC • Winthrop University
Client Feedback Survey, June 2017
"Creative and thoughtful solutions, strong project management, thorough design and documentation."
"We have found their work to be complete and well coordinated…"
"Understands smaller projects"
"Listens and responds…"
"Provides thorough electrical drawings."
"Burdette has a great depth of knowledge on all types of projects. The engineers are responsive, helpful and good to work with."
"Responsive. When we have an issue, you have always been willing to respond to us quickly."
"Collaborate effectively with other team members to achieve a common objective."
"Very responsive and look after the best needs of the client."